EDF Staff | November 12, 2012
By Jim Marston | Bio
Throughout 2012, EDF's Energy Innovation Series will highlight around 20 innovations across a broad range of energy categories, including smart grid and renewable energy technologies, energy efficiency financing, and progressive utilities, to name a few. This series will demonstrate that cost-effective, clean energy solutions are available now and imperative to lowering our dependence on fossil fuels. Find more information on this featured innovation here.
Over the last few months, our Energy Innovation Series has featured companies and organizations that are working on various energy generation, management and efficiency issues. But there are other innovations that extend far beyond what most of us conceptualize as energy.
Across the country, many universities and colleges are investing in energy efficiency and renewable energy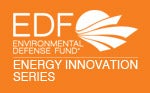 and adopting a conservation mindset that has helped these institutions cut energy usage and expenditures, and direct the money saved towards education and other core initiatives.
The Los Angeles Community College District (LACCD) is the largest community college system in the country, serving more than 250,000 students on more than 10 sites around the region. The system is in the midst of a $6.2 billion bond project that will add 80 state of the art buildings on nine campuses. And rather than simply sticking new buildings in empty lots, planners are reimagining how these facilities will operate and work together.
e7 Studios is a new architectural organization that is leading the process. And while the e7 team has energy on its mind, its approach to both data analysis and visualization reaches far beyond standard energy efficiency measures.
"This isn't a simple renovation," said architect and e7 director Michael Rendler. "It's a re-imagining of how these campuses function and how their pieces interact. And we believe that to do that correctly, you have to see what you're working with. Being able to visually move through a design allows us to find new opportunities for energy efficiency and understand how our design choices impact usability and environmental performance."
A cornerstone of e7's approach is a massive database that allows designers to build 3D walk-though visualizations of their designs. It allows for a whole systems design approach to building management, which will – in turn – help LACCD achieve their "carbon neutrality" sustainability goals.
"Large facilities and campuses really need to be viewed as interconnected organisms, and each part and aspect of a facility generates data that can be captured and visualized," Rendler said. e7 is working to develop a single, standardized data model to which buildings, campuses and urban areas around the country can be applied. "Eventually, designers in any part of the world will be able to tap into this information and see their designs."
The wealth of standardized and shared data, Rendler says, will allow better design and performance for a lower cost, as well as more environmental benefits.
In addition to its new approach to design, e7 Studio is focused on bringing new approaches to education. The studio is not only leading the design process, but it is also involving LACCD students in the process. Its internship program provides front row seats to one of the world's largest education design and construction projects.
This approach not only serves as a model for urban and campus redevelopment, it trains a generation of experts who can apply their skills to projects around the world. LACCD hosted Sukreet Singh, an EDF Climate Corps fellow this past summer from the University of Southern California.
This content was originally published on EDF's Energy Exchange.